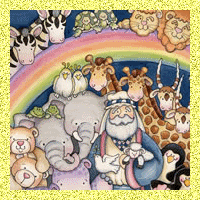 Welcome to the All Creatures Great and Small Blog Hop hosted by the awesome
Misty of Deliteful Gifts
. If you are one of my regular blog followers and you are just checking in for my regular post, please make sure you go back to Misty's blog to start at the beginning of the blog hop. I dont' want you to miss anything!
If you are here for the
Peeps blog hop, please click HERE
We were invited to make any creature related project we wanted that could be sent to Operation Write Home. They are seeking more kid friendly cards that soldiers can send home to their dearly missed children. My husband is a US Navy officer, and he has been gone more than home, so I can totally relate to OWH!
I love All Creatures Great and Small, because I believe that God created all creatures and each serve a purpose. When I think of how amazing He is to have created our entire earth and all creatures on it, I'm amazed. I often think of how awesome our God is when I think of the bumblebee. Did you know that scientifically it's impossible for the bee to fly? It's wings shouldn't be able to fly due to it's large body. It actually is scientifically impossible to fly as a bee--yet the bee doesn't know that. He flies on everyday! The bee is a miracle that can't be explained scientifically. Isn't GOD good?
So every time someone tells you that you can't do something--you remember the bumblebee. It is humble, it is a miracle, and it defies odds. It is a miracle and it does something everyday that it shouldn't be able to do! With God all things are possible--always remember that...no matter what you are facing. Remember the flight of the bumble bee!!
Here is my card that I created for this fun hop. This card was sooooo easy and quick thanks to a fabulous paper kit by Nikki Sivils! It could make me lazy--everything is so coordinating, and no work! heehee!
I'll Bee Here for You: Cheer Up!
Ingredients:
Cardstock: Textured (We R Memory Keepers), Solid (Recollections)
Now I have some amazing blog candy for one awesome follower! Just leave me a comment telling me what reminds you that "all things are possible".
A My Pink Stamper Buggy Punnies clear stamp set sponsored by me, shipped by me for you!!! I'll announce the winner 4/18!! Please come back by to check and see if you are the winner!
I promise to follow your blog if you are following mine! Just make sure to leave me a comment letting me know you are a blog follower with your blog addy, so I can hop over there to see you! Thanks bunches!